NGS OmicsLogic Training – Bioinformatics in Africa 2020
An Online Program for Students & Professionals in Africa introducing multi-omics technology and the future of Medicine. This upcoming NGS Bioinformatics Training program is a collaborative effort between Pine Biotech Inc, USA & Dept. of Medical Laboratory Science & the Faculty of Basic Medical Sciences, Lead City University, Nigeria, and the facilitation of Adekunle O. Adeluwoye, a Faculty from Lead City University, Nigeria for interested Students and Professionals in Africa. The program is also supported by NigeriaMedLabConvo, Lagos, Nigeria, a non-profit organization committed to boosting the understanding of Medical Laboratory & Biomedical Data analysis Practice in Nigeria.
NGS OMICSLOGIC TRAINING 
Program length : 1 month, October 05 – November 05, 2020
Session Time: 2:00 – 3::30 PM WAT
Discounted Registration Price for University students: $20.10; 
Registration cost for faculty: $10 
Discount code: TAKE33OFF
Program price for Professionals: $45
Early bird Discount for Professional: $30
Location: Online 
Registration Link: https://africa.omicslogic.com/
This program is designed to address key challenges in Biomedical research by implementing project-based learning using AI Guided tools & platforms built to enable biologists to understand data-driven research.
The Bioinformatics in Africa initiative aims to enable and scale biomedical, Clinical, Biotechnology, and Agriculture research using Big Data analysis amongst the students, researchers & faculty to develop a research ecosystem and the capacity to address some of the challenging healthcare issues of the continent. 
Africa holds a special place in human evolution because it is the location where a number of hominin lineages, including modern humans, arose. Despite its crucial role in our evolutionary past, Africa remains largely underrepresented in genetic studies. In this full program, we will learn about NGS data and its application in Translational Research, apply methods to real datasets, and understand the logic of the analysis. After registering students will have access to start exploring the innovative research & educational platforms, live sessions, a Team of experts Ph.D. in Biomedical research & student mentors.
This program is designed for anyone interested, including beginners that do not have a background in bioinformatics. Basic Biology understanding and a Biochemistry and Biotechnology background are preferable. This program is a great fit for faculty who can translate knowledge and skills gained into their teaching and research. The students who have participated in our previous 1-week program are both undergraduate and postgraduate students in the basic medical sciences, anatomy, biochemistry, physiology, biological sciences, medical laboratory science, environmental health science, and other related health sciences, molecular biology and Genomics, and agricultural science.
Program Topics:
Introduction to Translational Research

Next-Generation Sequencing – Genomics: DNA Variants and Mutations

Next-Generation Sequencing – Transcriptomics 1: Gene expression data

Big Data Problem: Using Machine Learning for Complex Gene Expression Data

Bioinformatics Data sources: Raw data and Public databases 

Final Exam and Bioinformatics Research Project Proposals
Date, Time & Schedule for NGS Omicslogic Training
This online program includes:
Instructor support, tracking of student progress, access to all resources and materials online for self-paced learning, access to expert guidance and problem-solving, demo pipelines (server.t-bio.info).
The program participants will have access to 12 asynchronous courses with the Basic membership that allows participants to learn from structured modules on important NGS technologies such as Genomics, Transcriptomics, metagenomics, epigenetics. 
Registration Process
Program Cost – $30 USD (Basic)
To register, visit – https://africa.omicslogic.com/
Choose from any of the Membership options below: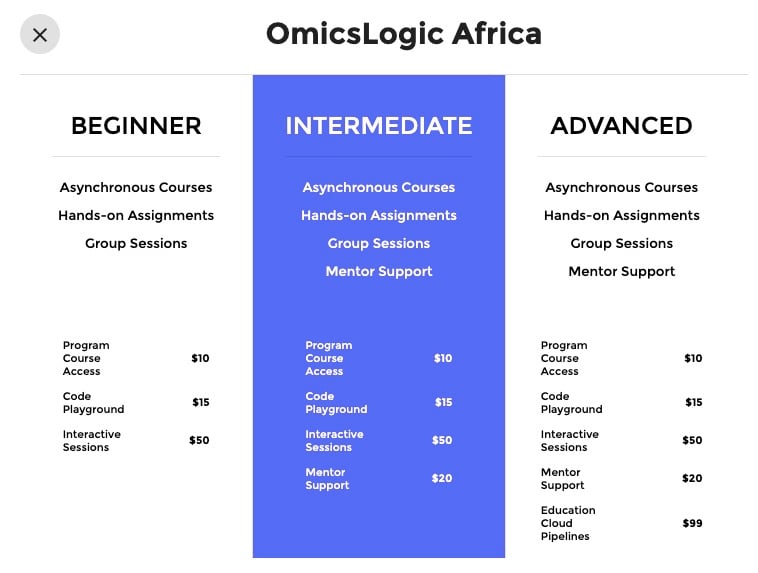 Enter your card details and the discount code – TAKE33OFF
Complete your payment.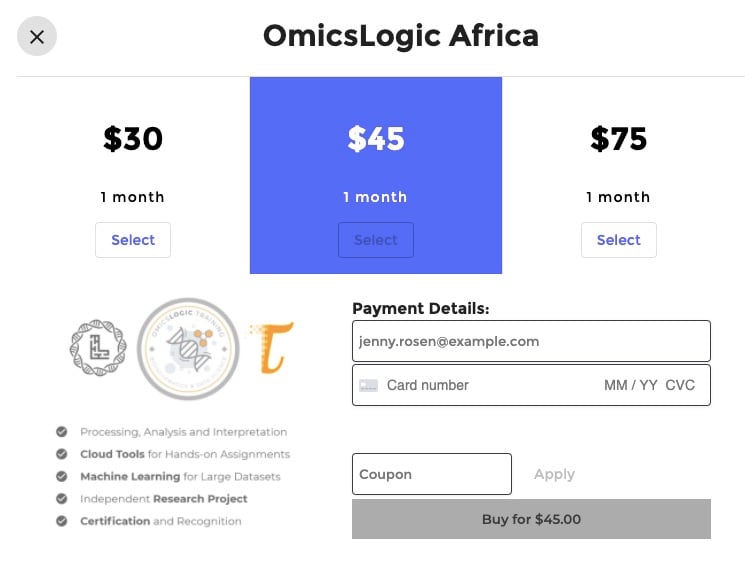 ALTERNATIVE PAYMENT:
If you are a Verve Card user or face any issue with the above payment method, you can use this link to complete registration – https://paystack.com/pay/ngs-omicslogic-training
For more details, please email – marketing@pine.bi